This New Hire Onboarding Checklist Will Blow Your Mind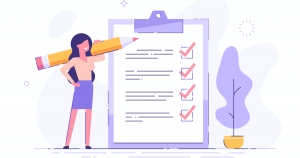 As a
human resources professional
, you understand the value of employee onboarding. From better job performance to higher retention the benefits of onboarding are quantifiable. Failing to properly onboard a new hire can cost you and your business a significant amount of time and money. So to help you we put together this new hire onboarding checklist that will blow your mind.
Get your employees started on the right foot before they even enter the workplace. There is a slew of relevant documents and paperwork that must be filed and prepared beforehand.
This New Hire Onboarding Checklist Will Blow Your Mind
Before Starting Work
Prepare Relevant Paperwork: Transactional Onboarding
Before your new hire starts their first day, you must prepare all of the relevant paperwork and information. Begin finding and recording the employee's basic information.
Employee Name
Date of Hire
Employee Contact Details
Additional Information
W-4
I-9
Insurance Forms
Direct Deposit Forms
The Non-Disclosure Agreement
Position, Goals, and Tasks
During the training period, your new hire will need to work closely with a supervisor or a trusted mentor. This will help to ensure they are properly oriented to the position, policies, and facilities.
Speak with the supervisor about the new hire and their role/position within the organization.
Discuss the set goals for the new hire and appropriate task that will help acclimate the employee:

Employee Position
Employee Goals
Tasks and Projects
Employee Workstation and Equipment
Before your employee starts their first day it is important to prepare their workstation in advance to avoid delays. For example:
Desk
Chair
Telephone
Computer
Office Supplies
(Go the extra mile and have a t-shirt, mug, or backpack with your company's logo on the employee's chair or desk.)
Give Access
Prepare all the login information they will require.
WiFi Password
Email List of Coworkers
Department Phone Numbers
(Remember that there are often additional passwords or keys they will need for their position.)
Company Accounts:
Company Email
Company Phone Line
Company Accounts
Prepare Employees Benefits Package
It is imperative that each of your employees understand what benefits are available for their position. Here is information your employees will require:
Confirm Position Funding
Example Benefits Package

What they will receive
Budget Details
Potential promotions
Salary Range
Vacation time and Health Benefits

Summary of All Information (Hard Copy & Digital)
---
New Hire's First Day
Often, new employees start during busy seasons where deadlines are hurtling towards you at an alarming rate. While your staff tries to keep up with the increased workflow, it is easy to overlook new hire training. To ensure you adequately onboard your new hire, here is what you need to know.
Avoid the confusion by creating a straightforward schedule and make the new employee your number one priority on his/her first day.
Office Tour
Before starting their first day take your new employee around the office. Show them all the relevant and common areas of the workplace such as:
Kitchen/Break Area
Bathroom
Work Station
Your Office
Human Resources
Managers/ Supervisors Office
IT Department
Your Goals and Expectations
If you want your employee to perform well, you need to tell them what is expected of them explicitly. Give a detailed outline of their position with goals and deadlines. Here is what you should consider:
What goods and/or services does their position produce?
What are their long-term and short-term goals?
What is the impact of their position on the rest of the team?
What are your expectations for their behavior toward coworkers and clients?
What organizational skills do you expect?
Company Culture
This step should be handled by your human resources officer or team. Have them speak with your new hire to explain details such as:
Dress Code
Arrival Time
Parking Locations
Building Access
Time-Off Policy
Mentor Assignment
Assign your new employee a mentor. This is to ensure they have the opportunity to seek help when needed and work productively. A mentor will help them learn about the job quickly and provide assistance through the transition.
Remember it is essential to assign a mentor that is well suited for your new hire. A mentor should not be in such a high status that your employee feels uncomfortable asking questions or seeking help.
ACA Reporting
While we cannot help find a mentor or train your new employee, we can help with all your ACA reporting. ACAwise is an all-in-one ACA reporting software designed to track and monitor your ACA compliance throughout the year. Then when it is time to e-file we will create Form 1095 and 1094 on your behalf! You will then review your forms and we will securely e-file directly with the IRS. We will even mail your recipient copies form our South Carolina based office when it is time to file.