ACAwise Offers a Solution for State-only ACA Reporting
Another way that ACAwise has your ACA reporting needs covered!

|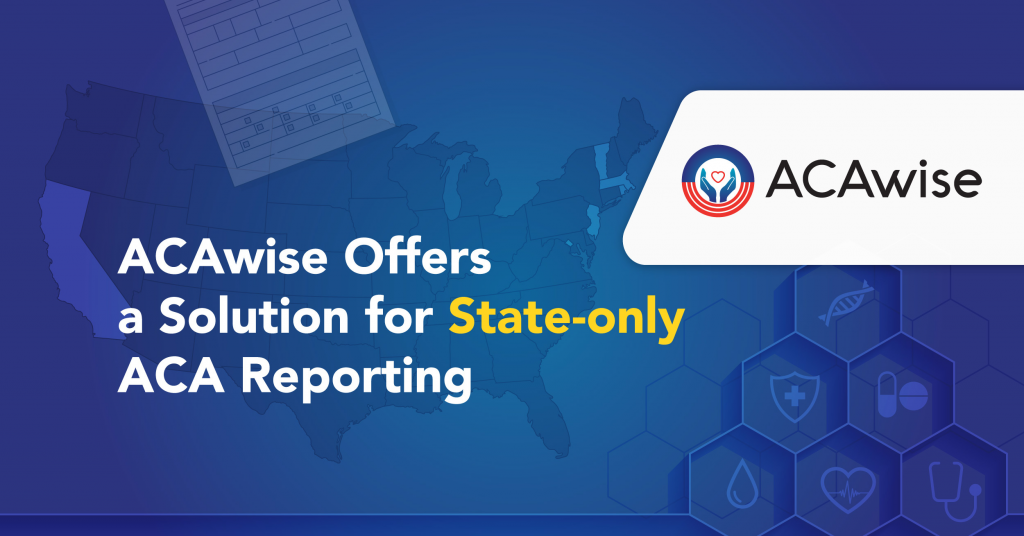 ACA reporting is a complex process, it is a common misconception that this reporting is only required by the IRS. In fact, there are many states that require ACA reporting at the state level.

Reporting health coverage information with the states that require it can become an additional struggle for employers. This adds the stress of determining which states require filing, which of their employees live in these states, and more.

ACAwise offers a complete solution for federal and state ACA reporting requirements, but did you know that the ACAwise team also offers a simple state-only filing service?

Why do some states require ACA Reporting?
From the time the Affordable Care Act was put into law until December 2017, there was an individual mandate in place. This required all Americans to acquire health insurance each year or pay an IRS penalty.

This was repealed, however, several states adopted an individual mandate at the state level. Residents of these states must maintain health insurance and employers must file and furnish ACA forms to their employees in order to comply.

Which states require ACA Reporting?
The following states have individual mandates:
These states all require that employers file Forms 1095-B/C for the applicable employees, with the exception of Massachusetts. The state of Massachusetts requires employers to file Form 1099-HC. At this time Vermont doesn't require the annual filing of ACA forms, but they have made it clear that if the federal government eliminates ACA reporting, it will be required to file at the state level. As it is not yet required, ACAwise does not support e-filing with Vermont currently.

What is ACAwise State-only Filing?
ACAwise State-only e-filing is just as simple as it sounds! ACAwise offers a simple process for your state-mandated e-filing. If your business needs a complete solution for federal and state e-filing, no problem, we have you covered! However, if you only need a solution for e-filing ACA forms with your state, we support this. We even offer postal mailing services for your recipient copies.

How does ACAwise State-only E-filing work?
The State-only filing process is just as simple as our complete reporting process. You upload your employee's health coverage data securely using the ACAwise template or your own template. ACAwise accepts your Form data in the following formats (.XLSX, CSV, Digital PDF).

After our team has access to your data, we will begin to run data validations and integrity checks. We will notify you of any errors we come across so that you can easily upload the correct information. Finally, we e-file your forms with the required state in the proper format. We can even handle the printing and mailing of your recipient copies.

Does ACAwise state-only reporting sound like the ideal solution for your business? Get started with us today! Simply sign up and provide your filing requirements. One of our expert team members will reach out to begin your filing process!